BAMPFA's "About Things Loved: Blackness and Belonging" Makes Good on Its Promise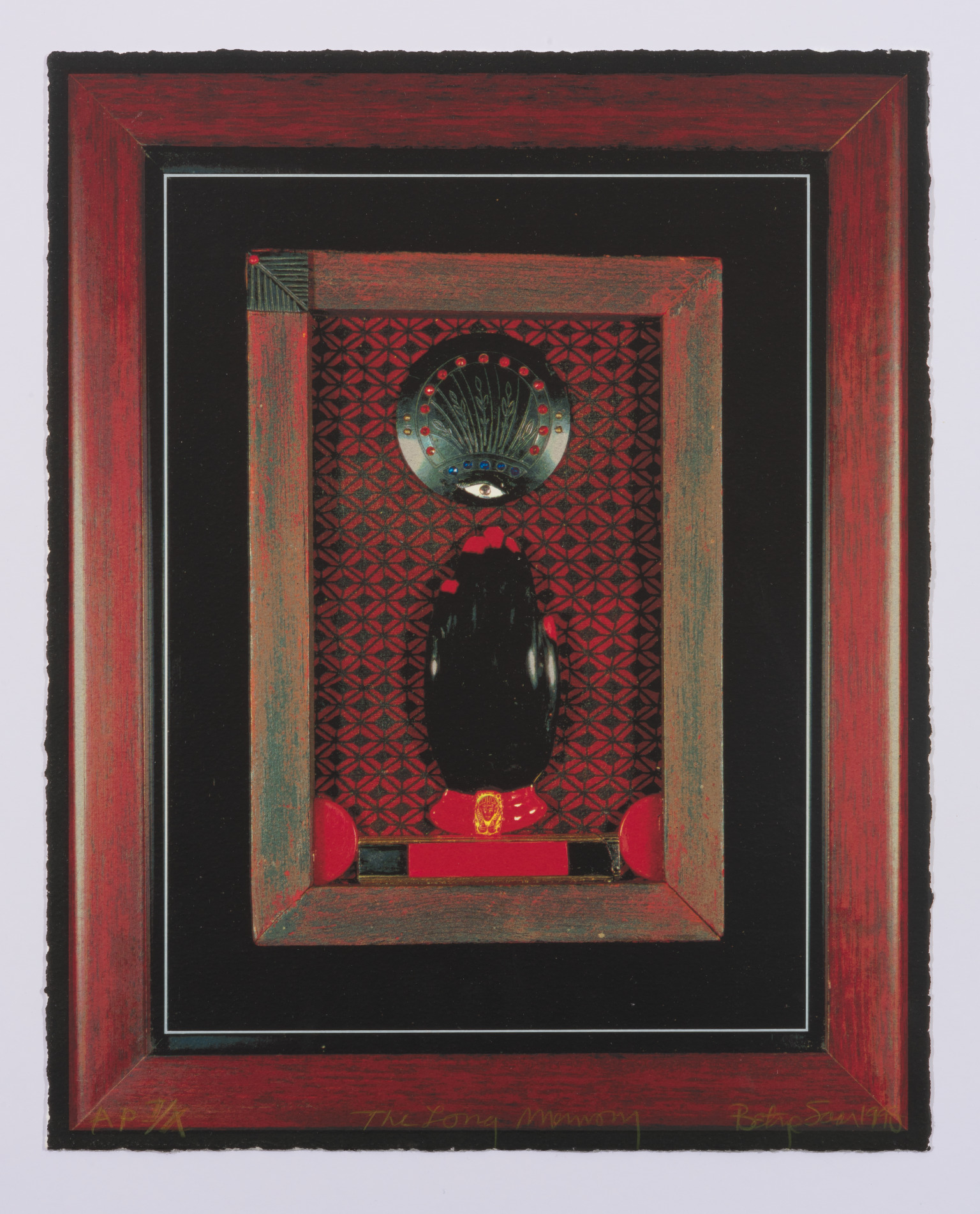 "Can blackness be loved?" That is the question, posed by poet Fred Moten, that anchors BAMPFA's new exhibition, About Things Loved: Blackness and Belonging. The exhibit tackles that question from a uniquely self-aware angle, asking if Blackness can be loved specifically by museums, curators, and the gallery space. About Things Loved interrogates the acts of curation and exhibition themselves, to stunning results.
The gallery lies tucked at the end of a long, white hall. Inside, the walls are painted a radiant black, adorned with sharp white frames. Divided into five thematized sections, the works flow into each other, conversing and contrasting. The exhibition is impressively multimedia, hosting paintings, photography, sculptures, artifacts, and countless other uncategorizable works of art. Everyday items like woven baskets and wooden canes are displayed in glass cases alongside the delicate cut-paper silhouettes of Kara Walker and portraiture of Erica Deeman, blurring the lines between practical and artistic objects. The curators behind the exhibit, many of them students in the UC Berkeley graduate seminar Diaspora | Migration | Exile, care tremendously about the lives of objects, and that affection shines through the collection.
Many of the captions throughout the exhibit end in questions: "How might artists envision transcendent possibilities and healing through a practice of weaving?" "Where and to whom does this drum belong?" "What would it be like to take this insight out of the gallery?" "Are you watching from elsewhere or inside it?" "What does it mean for an object to belong to a museum?" These reflective prompts not only engage us, but implicate us—as observers, as consumers, and as museum patrons.
The exhibit's section entitled "Collecting and Belonging" is the most affecting and persuasive of the five. While the entirety of the exhibition considers the grip of antiblackness on museum practices, "Collecting and Belonging" is the most incisive in its examination, presenting artworks alongside museum registrars' documentation of the pieces' histories and origins. Graduate-student organizer Leslie Huang, who co-led an insightful guided tour this past Friday, remarked on the disparity between the objects that museums collect and the objects that museums exhibit, likening the spaces in which museums accumulate and house artworks to morgues. Thus the question becomes not only one of ownership, but also of visibility.
Black women artists shine particularly bright in About Things Loved. Kara Walker's "Freedom: A Fable," which boasts her iconic pop-up style, is absolutely arresting. Erica Deeman's "Untitled 08" towers over the space, dignified and majestic. UC Berkeley alumnus Carrie Mae Weems makes several appearances, her photography looming large, white-framed against the tall black walls. Weems' "Hush of Our Silence" moved me in particular: a black-and-white image of a gramophone horn sits atop white text on a dark blue backdrop—I REMEMBER LONG NITES AND ENDLESS DISCUSSIONS WITH YOU, WHEN WE WERE NOT AFRAID TO SPEAK OUR MINDS, AND NOW I ONLY FEEL THE HUSH, HUSH, HUSH OF OUR MUTUAL SILENCE.
One of the exhibit's most interesting curatorial choices is its internationalism. This is an exhibition of Blackness—not just Black American-ness. Works are sourced from artists from Africa and the African diaspora, from Ethiopia to South Africa to Harlem. This global perspective both bolsters and complicates the exhibits central question of Blackness and love. Blackness becomes a mutually intelligible language of love, a uniting force that connects distant peoples. But Blackness is also loved differently in different places and within different cultures, given more or less space and respect and dignity depending on location. The exhibition leaves these issues up to our consideration.
About Things Loved is a crucial and overdue interpolation of Blackness within the museum space, specifically that of BAMPFA. "We—and the museum field—must do more to disrupt a historical legacy that has minimized the contributions of Black artists in museum spaces for far too long," says BAMPFA Director and Chief Curator Lawrence Rinder. About Things Loved is an exciting and democratizing collaboration between BAMPFA and UC Berkeley student curators, as well as a promising first step in addressing the antiblackness that has long permeated the politics of museums. Hopefully, BAMPFA—and Berkeley's Art History Department, which co-sponsored the graduate seminar behind the exhibit—can continue to prioritize marginalized artistic voices moving forward.
About Things Loved: Blackness and Belonging is on view at BAMPFA from May 17 - July 21, 2019.